I have spent the last few weeks writing a new personality report called
"Discover who you REALLY are – 15 Things you didn't know about you"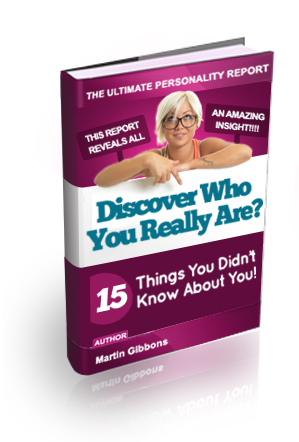 OK, it's not the shortest title but it says it all.
This report is the broadest we have ever published, as it covers much more than just career issues. It also talks about relationships and family and even health issues.
Personality is about much more than just career as it affects every aspect of your life.
My thing is to see more people solve every day problems from a deeper understanding of self and others. Whether these are problems at work or problems at home. The 15 Things report is essentially 15 personality reports in one, covering a very diverse subject range.
Discover who you really are is exactly what everyone needs. It helps you with pretty much every aspect of your life as well as your career.
I have had some interesting feedback and testimonials already. Here's what Rosheen had to say;
"This was great it provided good and new information plus some LOL moments!"
If you haven't grabbed your copy your copy yet then check your email as some members were offered a discount. Failing that just head over to http://www.peoplemaps.com/discover-who-you-really-are/ and grab your own copy.